Van ruwe steen tot sieraad. Hoe worden edelsteen sieraden gemaakt? We mochten meekijken bij een Duits familiebedrijf dat al generaties zilveren edelsteen sieraden maakt.
Inhoudsopgave
Het Duitse edelsteen centrum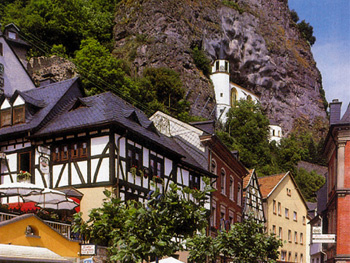 Edelstenen zijn populair om sieraden van te maken. Dit wordt al eeuwen gedaan in vrijwel iedere beschaving die ooit heeft bestaan. Maar hoe gaat dit in zijn werk? Hoe wordt een ruwe steen vermaakt tot een prachtig sieraad? Om hier achter te komen gaan we naar het edelsteen centrum van Duistland. In Idar Oberstein vinden we een familie bedrijf dat al generaties echt vakwerk levert en ze laten ons meekijken in het proces.
Waar komen edelstenen vandaan?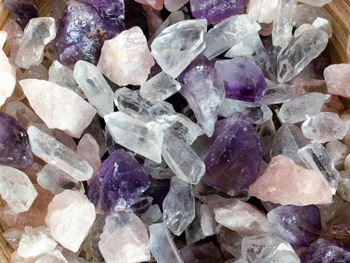 alles begint in een groeve waar de ruwe stenen vandaan komen. Welke steen uit een groeve komt wordt bepaald door de samenstelling van de grond en de locatie waar de groeve zich bevindt. Australië staat bijvoorbeeld bekend om zijn opaal, Brazilië vanwege de amethist, bergkristal en citrien en uit Madagaskar komt prachtige apatiet en rozenkwarts. In eerste instantie lijken de ruwe stenen nog helemaal niet op het sieraad wat ze gaan worden. Daarvoor hebben ze nog een lange weg te gaan.
Hoe worden edelstenen bewerkt?
De ruwe stenen worden eerst uitgezocht op kwaliteit en grootte. Grotere stenen worden kleiner gemaakt en vervuilde stenen eruit gehaald. Hierna gaan alle stenen in een grote trommel. Deze wordt voor driekwart gevuld met de stenen die er samen met water en schuurmiddel in gaan. Een aandrijfriem zorgt er voor dat de trommel gaat draaien waardoor de stenen over elkaar heen vallen en langs elkaar schuren. Dit proces duurt ongeveer een week. De stenen die er dan uit komen zitten onder een dikke laag smurrie die er eerst afgespoeld moet worden. De stenen zijn inmiddels afgerond en te vergelijken met bijvoorbeeld een afgeronde kei in een rivier. Naar gelang het resultaat wordt deze stap nogmaals herhaald met een fijner schuurmiddel.
Hoe worden edelstenen gepolijst?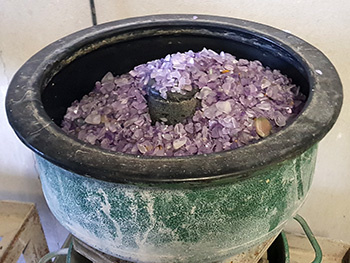 Als de stenen uit de trommels komen en de gewenste afgeronde vorm hebben zijn ze nog steeds dof omdat ze grof geschuurd zijn, zie zien er uit als afgeronde rivier keien. Nu is het tijd dat ze in de spirator gaan. Dit is een grote kom waar zo'n 10 kilo aan stenen in kan. Hier gaan ze samen met water en fijn schuurmiddel of polijstmiddel in. De kom vibreert waardoor de stenen over elkaar schuren en een ronddraaiende beweging in de kom maken. Na 24 uur is er al een dikke laag smurrie ontstaan en worden de stenen weer schoongemaakt. Dit proces wordt een aantal keer herhaald totdat de stenen helemaal glad zijn. Nu spreken we van trommelstenen of knuffelstenen
Hoe krijgen edelstenen hun vorm?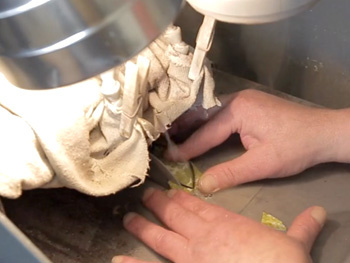 Als de stenen een specifiek uiterlijk moeten hebben, bijvoorbeeld in de en vorm of in een punt of ruit, dan kan wordt de ruwe op maat gezaagd. Vervolgens wordt de gewenste vorm op de steen afgetekend en et een diamantzaag uitgezaagd. Dit is een heel precies werk wat veel oefening vereist. Nadat dit is volbracht wordt de steen met een fijne schuurmachine en uiteindelijk een polijstmachine helemaal glad en glanzend gemaakt.
Hoe wordt een edelsteen hanger gemaakt?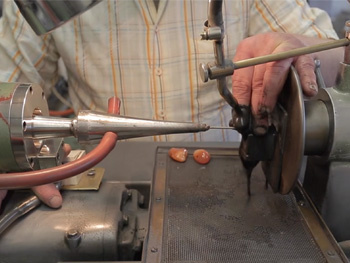 Als de steen de gewenste vorm en gladheid heeft wordt het tijd om deze tot sieraad te verwerken. Er zijn verschillende methodes voor. Zo kan de steen met zilverdraad worden gewrapt of kan deze in zilver worden ingesloten. Op deze manier worden er geen andere handelingen aan de edelsteen uitgevoerd. Vaak wordt er echter voor gekozen om de steen te doorboren. Hier wordt een soort verticale boorkolom voor gebruikt die heel precies een gat kan boren. Dit vereist enorme precisie en concentratie. Een fractie te veel naar links of recht kan de complete steen waardeloos maken. Als de steen in zijn geheel doorboord is kan deze bijvoorbeeld aan een koord gedragen worden en als er enkel een gaatje is geboord kan er een zilveren oogje in gezet worden. Op deze manier ontstaat er een zilveren edelsteen hanger.
Hoe zien edelsteen hangers er uit?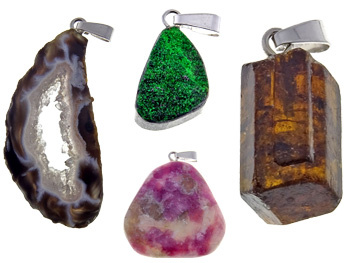 het eindresultaat is een prachtig edelsteen hangertje die met veel zorg, liefde en Duits vakmanschap in elkaar is gezet. En dit zie je terug in de kwaliteit en duurzaamheid van de edelsteen hanger. Wij zijn dan ook trots dat wij deze bijzondere zilveren edelsteen sieraden mogen aanbieden.