Gift voucher from the Amber Specialist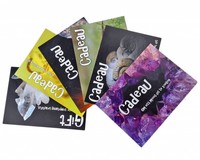 Do you want to give someone a beautiful fossil, mineral or perhaps a meteorite, but you're not sure which one? Order a gift certificate from the Amber Specialist! Then you're always on the right track!
Gift cards in different Themes
Obviously you do not want to come up with a standard gift card. Therefore, we have 6 different designs to choose from. In Dutch we have the following motives: Extraterrestrial, dinosaur, minerals, fossils and amber. In English, we have a gift voucher with a crystal.
Value of the vouchers
All themes are available in 3 different values. You can choose 10, 25 and 50 euros. Each voucher has an envelope included so that it can be given directly. Looking for a credit over € 50, - please contact us though the customer service.