Red Garnet from Mali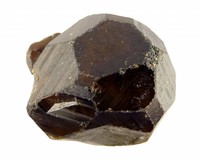 Beautiful deep dark red garnet from Mali. This is the original crystal structure.
Pomegranate
The garnet is named after the Latin 'granatus' which refers to the pomegranate. This is a red plant with seeds which have approximately the same color as the red garnets.
Natural crystal form
The red garnet is the best known. We have pretty raw red garnets in stock in the natural crystal form. Red garnets are like the green found in Mali.
Effect of grenades
Garnet helps hopeless situations, the stone gives energy and perseverance. The stamina, confidence and willpower is encouraged. It promotes courage, optimism and joy.