mosasaurus teeth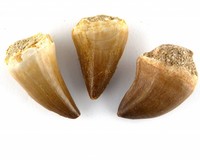 The Mosasaur is a saurian in the late Cretaceous (71.3 to 65.4 million years ago) the seas populated.
Teeth of a real dinosaur
The first fossil remains of Mosasaur were found near Maastricht. The Mossasaurus is named after the river. These marine reptiles were among the largest of their kind and were up to 18 meters long!