Jasper from South Africa and Namibia.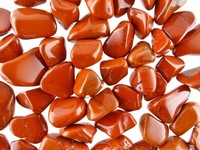 Beautiful tumbled jasper stones from South Africa and Namibia.
What is Jasper?
Jasper is an opaque variety of quartz and agate. The porous structure of the jasper makes sure that this mineral can include many different substances, this explains the huge variety of colors that jasper can have.
Spirituality
Jasper can be used to accomplish goals. It is also a stone of love and can transform negative thoughts into positive. It stimulates the sense of justice and gives imagination.