Olivines from Pakistan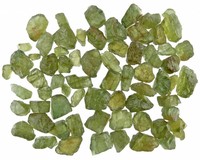 Intense green periodot from Pakistan
Olivines
This green peridot is found in Pakistan. It are transparent olivines that are named peridot (derived from the French word for olivine, peridot) or chrisoliet that is derived from the Greek word for gold and stone.
Cleopatra
Peridot was the favorite gemstone of Cleopatra. According to this queen the green gem slows the aging process.
Spirituality
Peridot is a protective, cleansing stone. It encourages independence and growth. The stone stands for dignity, loyalty and honesty. It also protects against nightmares.