Hand forged meteorite knives
Beautiful hand forged knives that combine earthy steel with the Campo del Cielo iron meteorite.
Read more
Hand forged
This knife is forged by hand using a combination of earthly and extra-terrestrial metals. This gives the unique difference between the darker steel and lighter nickel-containing meteorite stripes on the blade. Various types of wood have been used for the handle. 
The forging process
First, the iron meteorites are flattened and put between two steel plates. You then have a kind of hamburger with a steel sandwich and a meteorite burger. This goes into the fire to 'well' as the different metals merge together. After this process, the whole thing is flattened and folded. This happens twice so that 12 layers are created. The structure then looks like this: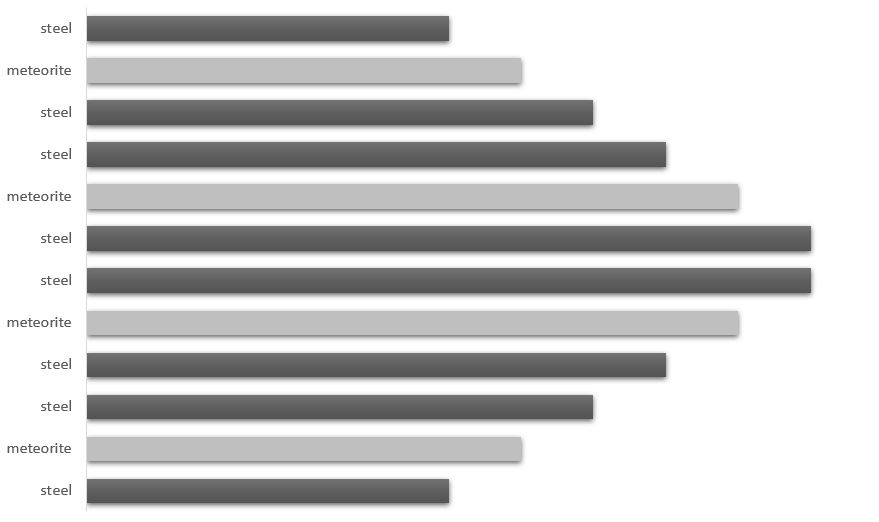 After this, the knives are sharpened and the wooden handle is crafted and assembled. The cases are cut out of leather and sewn by hand. After this, the 100% unique meteorite knife is ready.
Campo del Cielo meteorite
The Campo del Cielo meteorite was used for this knife. This enormous iron meteorite struck Earth about 5000 years ago. In the atmosphere, the meteorite broke up and ended up fragmented over an area of 60km2. In addition to iron, the meteorite consists of 6.67% nickel.